Since elected in 2008, I have continuously walked our community and listened to concerns from our residents and businesses. Each and every day, I faithfully perform the duties of Mayor with the highest integrity and principle.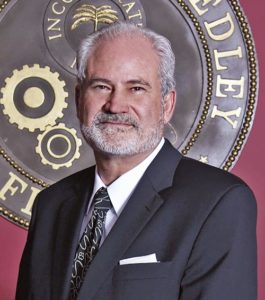 I am privileged to serve as a community leader on several panels such as on the Governing board of the Metropolitan Planning Organization, Vice Chair of the MPO Fiscal Priorities Committee, Board Member of the MPO Executive Policies Committee and Board Member of the South Florida Regional Planning Council.
As infrastructure projects continue to move forward, I will continue to remain fiscally vigilant to guarantee the the financial stability of our Town. As a business man, I am a strong believer that our Town needs to remain focused on encouraging development of underused commercial and industrial properties so we can continue to grow our tax base and increase tax revenue.
I am honored to say, that under my Administration, the Town has had many remarkable accomplishments to be proud of. The Town's first resident library was opened in 2013, a complete renovation of our Danny Meehan Recreational Field that included a walking path and exercise stations was finalized in 2016, newly made sidewalks and streets are presently on the way to improve the safety of our citizens, and the upcoming construction and opening of the Town's pool and with new BBQ recreational areas are in the works.
As we encompass goals which will continue to positively shape our Town, we must remain unified and work together to unleash Medley's unlimited potential. Once again, I express my thankfulness to our community for making Medley the great place it is to live, work and play.
Mensaje del Alcalde de la ciudad de Medley Roberto Martell
Desde que fui elegido en 2008, he caminado continuamente por nuestra comunidad escuchando las preocupaciones de nuestros residentes y negocios. Cada día, realize fielmente los deberes de Alcalde con la más alta integridad y principios.
Tengo el privilegio de servir como líder de nuestra comunidad en varios paneles como, parte de el Consejo de Administración de la Organización Metropolitana de Planificación (MPO) de el condado Miami-Dade, vicepresidente del Comité de Prioridades Fiscales del MPO y miembro de la Junta del Comité de Políticas Ejecutivas del MPO.
A medida que los proyectos de infraestructura siguen avanzando, continué siendo fiscalmente vigilante para garantizar la estabilidad financiera de nuestra Ciudad. Como hombre de negocios, creo firmemente que nuestra ciudad debe seguir enfocada en fomentar el desarrollo de propiedades comerciales e industriales para que podamos continuar creciendo nuestra base de impuestos e incrementar ingresos.
Me siento honrado de decir, que bajo mi administración, la Ciudad ha tenido muchos logros notables de los que debemos estar orgullosos. La primera biblioteca para los residentes de la ciudad fue abierta en el año 2013, la renovación completa de nuestro parque recreativo
"Danny Meehan Recreational Field" fue finalizado a finales del 2016 que incluye un camino designado para trotar o caminar y estaciones de ejercicios. También, nuevas aceras y calles en areas residenciales están siendo construidas para mejorar la seguridad y presencia de nuestra ciudad y la próxima construcción y apertura de Ia piscina de Ia ciudad que incluye nuevas areas
de recreo, para barbacoa y muchas cosas más.
A medida que abarcamos metas que añaden positividad a nuestra ciudad, debemos permanecer unidos y trabajar juntos para darle rienda suelta al potencial ilimitado de Medley. Una vez mas, expreso mi agradecimiento a nuestra comunidad por hacer de Medley el gran lugar que es para vivir, trabajar y jugar.