Hialeah High Marching Band repeats history with state championship win
CRISTINA CABRERA -Hialeah High Thoroughbred Marching Band Instructor – ccab17@yahoo.com
If you ever get caught in afternoon traffic on 49th street and Palm Avenue during the months of July and November, you have to have seen them outside practicing. In the lot next to Wendy's, they march, run, climb on scaffolding; toss flags, rifles and sabres into the air and play music you have never heard. As you wait in traffic, they do a set of movements over and over until they take a water break. But like their school mascot, the Thoroughbreds, they get back on the field, and persist on doing it better each time.
This is the life of a student in the Thoroughbred marching band at Hialeah High School.
With a group motto like "Superior results require superior efforts," students in the program learn that they must work hard to accomplish the results that they want to achieve. This year, especially, required quite an effort as they defended their title as the Florida Marching Band Coalition (FMBC) Class 1A State Champions.
Was it a lot of work? Definitely.
With after school rehearsals, Saturday rehearsals, early mornings and late nights, in the sun and the rain, the heat and the cold, it is not an easy feat for any one, let alone a high school student. It also makes it difficult when instruments and uniforms break from wear and tear, as well as old age.
But setting a high bar for the group of 48, and the desire to repeat history as state champs was one that fueled students from the beginning.
"This activity is not about proving something, it is about achieving something," said Drum Major Marisabel Torres, a senior and the group's field conductor. "What every one of us wants and works so hard for."
Was another state championship title possible? Without a doubt.
This year's show titled "For Life, Liberty and Justice" featured music by Frank Sullivan and was driven by the concept of a dystopian society willing to overthrow its evil dictator. The Visual Director, Drill Writer and Brass Caption Head of the Hialeah Band, Jose Ruiz, was amazed at the level of performance that students interpreted every time they performed. Students not only marched, but danced, acted, and fused athleticism with musicianship.
"This is by far the hardest production I have ever designed, and with grade 6 music," Ruiz said. "These kids performed it with such intensity and pride. It makes me extremely proud to see them smile and know their hard work paid off."
Every year, throughout the months of Oct. and Nov., the band competes at the local level and concludes the marching season at the state level in Tampa.
On Nov. 21, 2015, after competing at a morning FMBC semi-finals with 19 other bands, the Hialeah High Band was announced as a finalist. The band also shared the top five finalist slots with local Hialeah bands, Hialeah Miami Lakes High (HML) and Mater Academy.
"The most amazing part was walking out of the field after semifinals knowing how amazing that rep was," said Band Captain Claire Morante, a junior who plays trombone and baritone. "It was one of the best of the whole season."
After competing with HML and Mater throughout the entire season, visual staff members and some of the parents from the Hialeah Band had a feeling that the finals competition would be a South Florida band brawl.
Inspired by the colossal Tropicana Dome venue—an enclosed dome stadium in St. Petersburg, home to the Tampa Bay Rays baseball team—each group performed with the thrill of being a finalist, and the hopes of being the new state champ. It is also the moment when the season comes full circle after months of preparation.
"The feeling in the dome was bittersweet," said Claire. "It felt like all our hard work was worth it staring at every inch of the dome. The feeling was too amazing to describe with words."
Later in the evening, there was an abundance of words, cheers and tears to fill the indescribable moment of being crowned the Class 1A FMBC State Champ for the second consecutive year; it's third title in the school's history.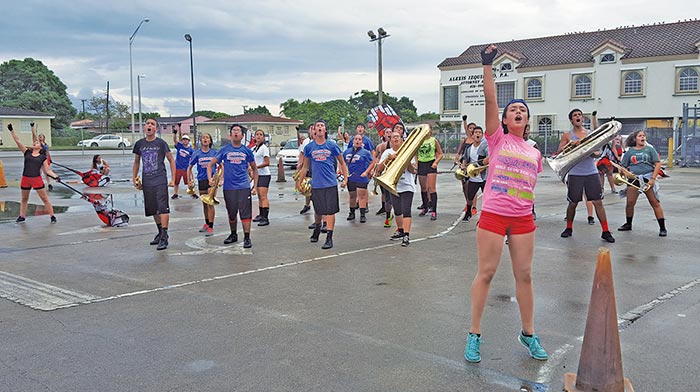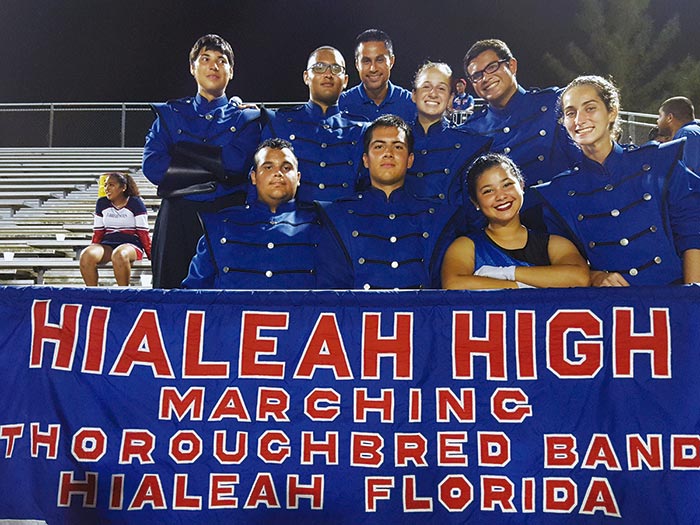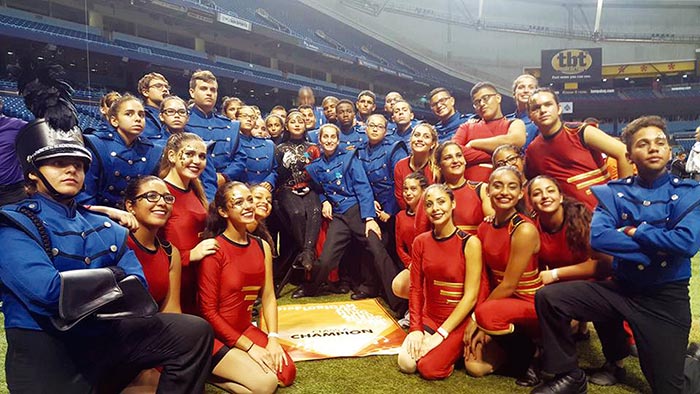 "This was a tough year but our students overcame growing pains, injuries, weather, lack of electricity, you name it," said Director of Bands at Hialeah High Omar Perez. "Thoroughbreds are picked for their effort, speed, spirit, and toughness. This group exhibits all those traits and especially something extra called "heart." They fought for every inch this year and I am extremely proud of them."
"I'm glad we achieved what we wanted, not just a state championship, but to walk out off the field with everyone agreeing that this was their best performance ever," said Ruiz.
Students embraced and celebrated their win, realizing how far they had come. The bonds that they formed were ones that will not easily be forgotten.
"There's no better feeling than accomplishing something you were told you couldn't," said Ahmad Reed, a junior who plays percussion in the band. "But doing that with people that share your same passion is indescribable."
The dedication and work etiquette that goes into successfully pulling off a marching season is one that students will one day hopefully apply to their careers. Even if they don't go into the field of music, there is something about the marching band experience that leaves its mark.
"Winning two state championships doesn't define me as a musician or individual," said Kathy Fernandez, a junior who plays marimba and other percussion.  "What defines me are the hours of work and the dedication for my craft."
To find out how you can help the Hialeah High Marching Band visit https://www.gofundme.com/HHSMarchingBand