Dear Town Of Medley residents,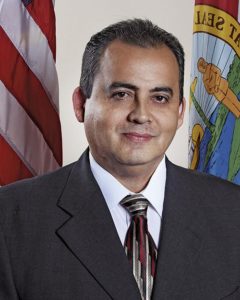 Having become your Vice-Mayor was not accomplished by coincidence, but rather as the result of lots of hard work and long hours devoted to you, my residents and to my Town. Today my commitment involves very important factors, my community, my Town residents, my Town employees, the bussiness owners and operators of my Town. Always keeping in mind that in order to achive success you must work as a team with the sole objective of making the best decisions that will benefit everyone without forgetting that the progress of a Town is the work of a united community. I humbly would like to reiterate my sincere thanks for the support and trust you have shown.
Thank you. Ivan Pacheco, Town of Medley , Vice Mayor
Un mensaje del Vice Alcalde de la ciudad Medley Ivan Pacheco
Queridos residentes de la ciudad de Medley,
Haber llegado a ser su Vice Alcalde no fue un logro por coincidencia sino mas bien el resultado de un duro trabajo realizado y largas horas dedicadas a ustedes mis residentes y mi ciudad. Hoy mi compromiso implica factores muy importantes, mi comunidad, mis residentes y empleados de mi ciudad, a los negocios y operadores de mi cuiadad.Teniendo siempre en mente que para alcanzar el exito se debe trabajar en equipo con el unico objetivo de tomar las mejores decisiones que vayan en beneficio de todos, sin olvidarme que el progreso de una cuidad es el trabajo de una comunidad unida. Quiero humildemente reiterar mis sinceros agradecimientos por el apoyo y confianza brindada. 
Gracias;
Ivan Pacheco, Town of Medley , Vice Mayor